Now is a time more than ever where we need more focus on our Relationships. The power of Unifications created between our most important relationships is beyond words and really gives purpose to almost all of our human lives! My goal in our 4th Unity-themed post is to share different thought leaders of the Unity approach to Relationships, to help us all. Please Share Yours with <3!
->Click here for Rabbi Morderchai Weinberger's website 
You have all you need to succeed!  Learn how to tap into your inner strength. Every person has what it takes to be a winner. Most of us are never taught how to take control of our abilities. It's simple once you know the steps.
Rabbi (Mr.) Mordechai Weinberger graduated Wurzweiler School of Social Work with honors, was designated to speak and graduation, and earned his NYC license in Social Work shortly thereafter. He had previously received advanced training and certification in the One Brain technique and is also certified by both the National Guild of Hypnotists and the American Board of Hypnotists. Having a natural knack for understanding people and a broad grasp of emotional and cognitive issues, he expanded his scope of training and earned certifications in CBT, EFT, level 1 Graphology, and Traumatic Abuse from prominent institutions.
Mr. (Nister) Weinberger devotes his life to helping people overcome their personal challenges. He is an acclaimed speaker and master therapist, having treated over 1100 clients and helped over 3000 people through personal instruction. He has given over 15,000 therapy sessions for people of all ages, including children, adolescents, young adults and middle-aged persons. In his practice, he deals with various issues, including marriage, teens at risk, business consulting, confidence boosting, Improve learning capabilities, trauma, coping with loss, behavioral issues, depression, self-esteem, panic attacks, social phobias and discover your inner talent.
Big thoughts on "Let's grow Together with Rabbi Mordechai Weinberger" on Jroot radio. Some feedback – This program is amazing!! I have never heard someone answer so quick and right on the mark!! I am following this website waiting for the program to come out. I listen to it and then pass it on to all my friends. Last night was amazing listening to him do therapy on air. Wow, it was a mega hit.. thank you jroot for this program. Chaim because you posted I posted!! We need to get this guy on camera. I would love to "see" him take the callers and address them. I am still wondering if it is really live and he is so good or its pre-arranged?
P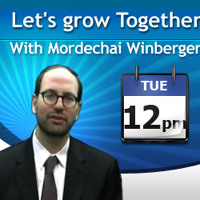 lease, Jroot gets him on the internet I want to see it live!!! I really like Nissim. I also appreciate that Mordechai calls him reb Nissim. he is a real smart person. all the other hosts call him nisin. Nissim YOU ROCK!
Yes, it is live and I will ask him if he wants to do video last night was amazing. I cant believe how easy Mordechai dealt with the issues!! I agree with Yossi I want to see it live on video!! I like that the program has a balanced mix of adults and children calling in…
Latest Class here
  New #inspiration found online Belovski on Marriage!